The Hotels Association of Sri Lanka
The Rising Star Awards - 2017
The THASL Rising Star Awards - 2017 is the first competition held by The Hotels Association of Sri Lanka, with a view to recognize the exceptional personalities who contribute towards value enhancement of the organizations whilst contributing to the progress of the hospitality sector in Sri Lanka. This is to be continued as an annual event.
Objectives of the THASL Star Awards
To recognize and reward the exceptional youth in the hospitality industry of Sri Lanka;

To encourage youth to participate and liberate their potential in the hospitality industry;

To promote the hospitality industry among the youth in Sri Lanka;

To recognize and reward contribution made to the hospitality industry performance by the youth in Sri Lanka; and

To develop and promote human capital in the hospitality industry in Sri Lanka.


Welcome speech by President Sanath Ukwatte
Rising star press conference held on 21-06-2017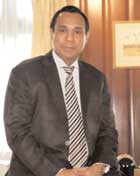 Good Evening!
Ladies and Gentlemen of the Media, my fellow members of the Executive committee and members of the Head Table, Industry colleagues, Ladies and Gentlemen, on behalf of the Tourist hotels association of Sri Lanka which is commonly known as THASL I would like to warmly welcome you to the Press conference convened today to announce our associations first ever mega competition and awards ceremony THASL Awards titled Rising stars of hospitality 2017.
There are two objectives for organizing this competition. The first is to recognize and reward outstanding employees in the hospitality sector and the second is to incite interest in the country's youth to join the industry.