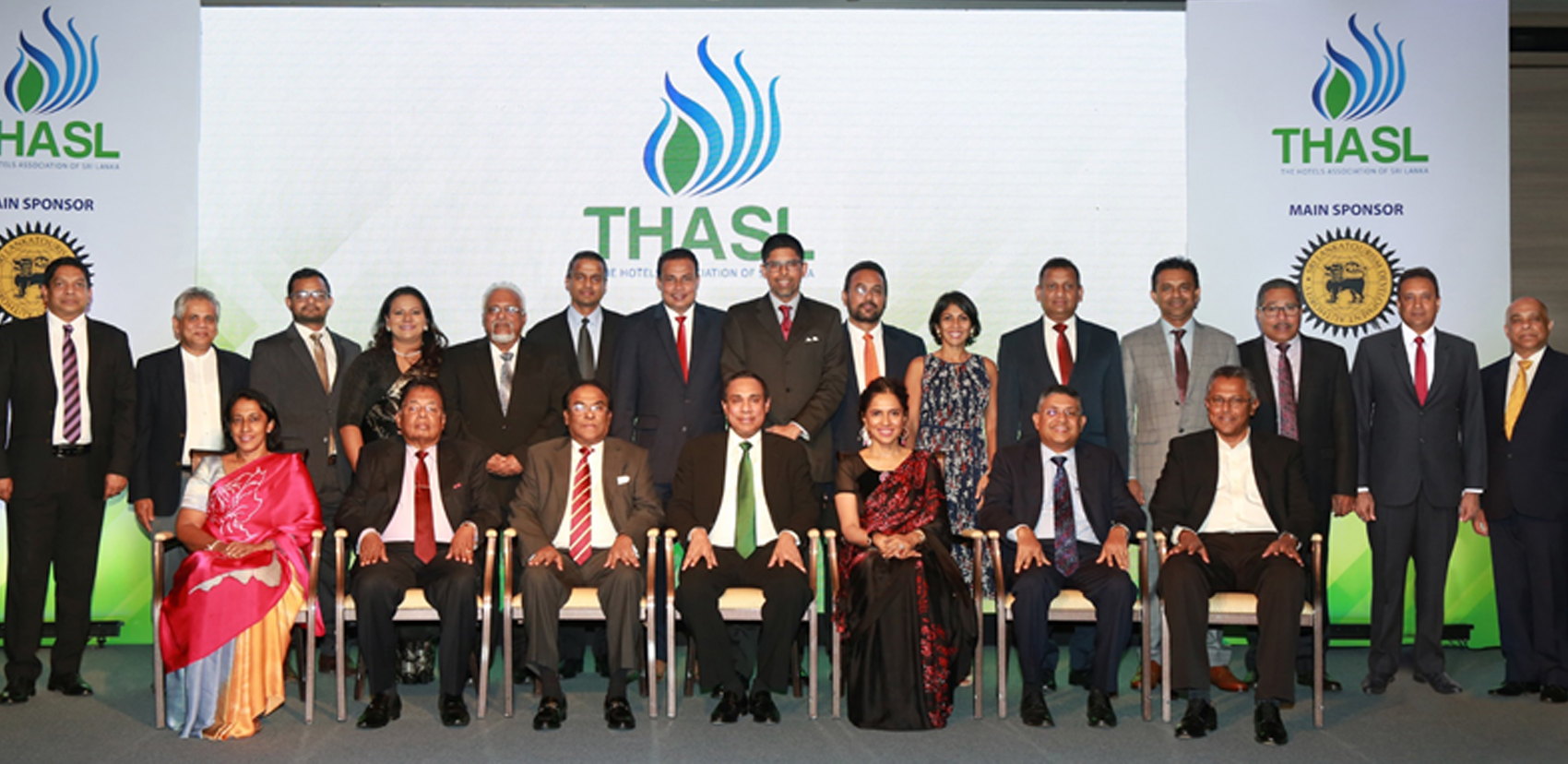 Standing from Left to Right
Mr. Anura Lokuhetty, Honorary member & Past President, Ms. Niruja Thambiayah, Committee member- Renuka City Hotels, Mr. Iain McCormack, Committee member- Shangri-la Hambantota, Mr. Lal Dissanayake, President- Negombo Hoteliers Association, Mr. Tilak Gunewardena, Committee member- Aitken Spence Hotel Management Ltd, Mr. Ruan Samarasinghe, Committee member- Jetwing Hotels Ltd, Mr. J. Kehelpannala, Committee member- John Keells Holdings PLC, Mr. Dayan Gunasekera, Treasurer - Serendib Leisure Management Ltd, Mr. Himaj Jayasinghe, Committee member- Saman Villas Ltd, Mr. Asoka Hettigoda, Committee member- Siddhalepa Ayurveda Health Resort (Pvt) Ltd, Mr. Chamin Wickremasinghe- Committee member- Theme Resorts & Spas , Mr. Srilal Miththapala, Honorary member & Past President
Seated from Left to Right
Mr. Hiran Cooray, Immediate Past President (Jetwing Hotels Ltd), Mr. Denesh Silva, Vice President- General Interest (Amaya Leisure PLC), Mr. Siri Goonewardena, Vice President- Small Hotels (Coral Sands Hotel), Mr. Sanath Ukwatte, President (Mount Lavinia Hotel), Mr. M Shanthikumar, Vice President- City Hotels (Ramada Colombo), Ms. Angeline Ondaatjie- Vice President, Resort Hotels (Tangerine Hotels), Ms. Laleenie P. Hulangamuwa, Chief Executive Officer- THASL
Absent
Mr. Ajit Jayemanne, Committee member- Browns Hotels & Resorts, Mr. Ninesh Suriyasena, Committee member- Suriya Resorts, Mr. Sanjeeva Perera , President- Bentota / Beruwela Hoteliers' Association, Mr. Lankesha Ponnamperuma, President- Cultural Triangle Hoteliers' Association, Mr. Samantha Ratnayake, President- Kandy Hoteliers Association, Mr. Keerthi Weragoda, President- Kalutara Hoteliers' Association, Mr. Harinda Weerasinghe, President-Mount Lavinia Hotelier's Association, Mr. Shamindra Fernando, President- Galle Region
---
Vice President - M. Shanthikumar
Counting over four decades of experience in the Tourism and Hospitality industry, Mr Shanthikumar has been a catalyst in driving some of the key initiatives implemented by the Governments which were of immense benefits to the hotel industry at large.
Mr. Shanthikumar is a Director of Alhambra Hotels Ltd, Director - Ramada Colombo, Director - Carlton Tours, Director Sri Lanka Tourism Development Authority, Director Sri Lanka Conventions Bureau, President Colombo City Tourist Hotel Association, and been part of the leadership team of The Hotels Association of Sri Lanka for over a decade.
He also held the position of Director/CEO of Global Towers Hotel, Global Investment, Global Lanka Hotels and a Director of Ocean Edge Hotel. A member of the Advisory Panel on Colombo City Hotels and a member of the Hotel Classification Committee appointed by the Ministry of Tourism and also served as Acting Chairman of Sri Lanka Convention Bureau.