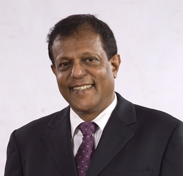 Mr. Malin Hapugoda
FCHSGA, HRIA [ Can.], FCNir [ UK ]
Mr. Malin Hapugoda hails from Baddegama and had his primary education at S Thomas' College, Mount Lavinia. Joined the Ceylon Hotel School in 1967 [ 2" Batch ] and graduated in Hotel Management in 1970. The Ceylon Hotel School Graduates Association was formed in 1971 and Mr, Hapugoda was elected uncontested as the Founder President and held the position of President on 3 other occasions.
Returning after completing a post graduate course of studies at the Rayerson Institute of Technology [University of Rayerson at present J. Toronto, Canada in late 1973 and took up appointment as the General Manager of Bentota Beach Hotel, Bentota at the young age of 24 years. He progressively climbed the ladder of leadership at Ceylon Holiday Resorts Ltd the owning Company of the Hotel and was made a Director in 1986 and held full responsibility for the total operation of three Hotels of the Company. In 1990 Mr, Hapugoda was invited to be a Director of Whitall Bousteads Ltd the parent Company of the group and in all its subsidiary Companies.
On purchase of Whitall Bousteads Ltd. By John Keells Holdings Ltd Mr. Hapugoda was made a Director of Keells Hotel Management Services Ltd and held responsibility for the total operation of all Company's Beach Hotels in addition to the overall responsibility of Sales and marketing of the 10 hotels belonging to the Company. He also served on the Boards of all the Hotel Companies of the Group. He was also a member of the JKH Management committee.
After 5 years at JKH he resigned to start his own Hotel Company and specialized in Authentic Ayurveda Resorts and contributed effectively to make Ayurveda a very lucrative Tourism niche product in Sri Lanka. After a very sucsessful operation sold the Company at its peak in 2002. He re-joined JKH at the invitation of the present Chairman of JKH as Director/Consultant of JKH Hotel operations and Development.
In 2004 at a mature age of 55 years He was head hunted and was appointed as the Managing Director of Aitken Spence Hotel Managements Ltd. Served in this position till July 2014 and continued for another year at the request of the Company as Director / Executive Consultant to facilitate a smooth transition. Mr. Hapugoda retired at the end of June 2015. During the period as MD he led the Aitken Spence Hotel team to enter Oman and secured 6 Hotels on Management and 4 Hotels in India in addition to managing the 4 Hotels in Maldives and 8 Hotels in Sri Lanka.
During his period as MD Aitken Spence Hotel Management Ltd was able to increase Aitken Spence Hotel Holdings Group turnover t Rs.000 of Rs. 2,887,669 in year 2004/05 to Rs. 12,947,076 in year 2013/14 ANC Group Net Profit [ Rs. 000 ] of Rs.232,446 in 2004/05 to Rs,3,517,015 in 2013/14
Mr. Hapugoda was also a very active member of the Tourism Industry and has served as a vice President of the Tourist Hotels Association of Sri Lanka on the many occasions and was the first career Hotelier and Hotel School Graduate to be elected to the post of president of Tourist Hotels Association of Sri Lanka 2003 & 2004.
He has also served on many boards of Government institutions related to the Tourism Industry.
Mr. Hapugoda who counts over 40 years of hands on Hotel Management & Hotel Development experience has his own Hospitality Management Consultancy Company and at Present among other assignments he is engaged by RIU Hotels and Resorts of Spain as Executive Consultant, Sri Lanka & Maldives.