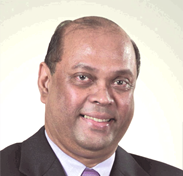 Kumar Mallimaratchi MIH
A graduate in Hotel Management from International School of Tourism in Italy, a life member of the Cornell Hotel Society (USA) and a member of Institute of Hospitality (United Kingdom). Former Chairman of Ceylon Hotels Corporation, Associated Hotels and United Hotels Company.
After obtaining a Diploma in Hotel Management & Catering he joined Royal Lancaster Hotel in London as an industrial release student in 1979.
He was Vice Chairman Tourist Hotels Association (THASL) from 1992 to 1996, Vice President of THASL from 1998 to 2001 before becoming the President of THASL in 2001 to 2003. He was appointed as an honorary life member of THASL in November 2007.
He became the President of Federation of Chambers of Commerce and Industry in 2011 to 2013 representing THASL as council member.