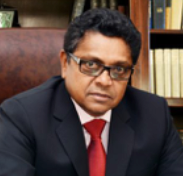 Mr. Anura Lokuhetty
Currently the Chairman of the Asian Council on Tourism and Confederation of Asia-Pacific Chambers of Commerce and Industry, Anura still functions as the honorary member of The Hotels Association of Sri Lanka and is a strong believer of the sustainable development of tourism principals through Community participation. He was awarded the Entrepreneur for the year award at the Tourism Awards in 2010, and was awarded with the Central Bank Governor's award for Economic Excellence in 2012.
Whilst being the Chairman of Red Apple Travels & Holidays Lanka Pvt Ltd, Chairman of Luxury Villas & Hotel Management Pvt Ltd and Managing Director of Sooriya Resort & Spa, Anura presently heads the Training arm of the Ministry of Finance, Miloda-Academy of Financial Studies as the Co-CEO.
During the 40 years of experience in the hospitality industry, he has held many positions such as the General Manager of many hotels, CEO of Confifi Group and CEO Galle Face Hotel Group before venturing on his own. He was also a Director of the Sri Lanka Institute of Hotel Management and was the Chairman of the Institute of Hospitality in Sri Lanka.
Anura has addressed many international forums and workshops and has published many articles on various tourism related topics both nationally and internationally. He has been a regular expert panelist in TV and Radio programmes on Tourism Industry.