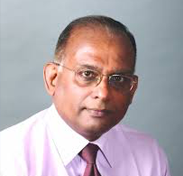 Mr. Srilal Miththapala
Srilal Miththapala has over 25 years' experience in the hospitality industry.
Having an Electrical Engineering degree, his early career was with one of the largest Plastic and Rubber manufacturing firms in Sri Lanka as Chief Engineer. He made a career change when he was appointed GM of Riverina Hotel, of the Confifi Group. In 1988 he was promoted as Director of Operations of the Group, responsible for the 4 resort hotels of the group. In 1999 he moved to the Serendib Group, one of the leading hotel management companies in Sri Lanka, as CEO/Director, responsible for 3 public quoted popular resort hotel companies. He is credited with refurbishing repositioning, and re-branding the group's hotel properties.
After 10 years at the helm of Serendib group, in 2009, he took over a more national role as Director/ Consultant at Ceylon Chamber of Commerce, leading an EU funded project 'Greening Sri Lanka Hotels' in promoting Sustainability best practices among SL Hotels.
He was President, Tourist Hotels Association of Sri Lanka 2008-10, Board member of the Sri Lanka Hotel Classification Committee (until 2012); Board member of the Sri Lanka Institute of Tourism & Hospitality Management (until 2016) part time consultant in tourism for World Bank, Washington D.C., a member of the Public Utilities Commission Consumer Consultative Committee. (Until 2016), and Board Member of the University College of Ratmalana, University of Vocational Technology (until mid-2017)
He currently serves on the Ceylon Chamber of Commerce National Agenda Committee on Energy.
He is a committed environmentalist, with special interest in wild life and elephants. He has carried out research at the Uda Walawe National Park of Sri Lanka on elephant population dynamics under the sponsorship of the US Fish & Wild Life Department. He was Advisor to the National Zoo & Pinnawela Elephant Orphanage ( until mid-2017)
He is a Visiting Guest Lecturer to the Business School of Plymouth University of UK, and was also a Visiting Lecturer for the Final Year University of Plymouth degree programme being conducted in Sri Lanka. He undertakes regular speaking arrangements in Local and International forums on Tourism, Sustainability and Wild Life.
He is a Chartered Electrical Engineer and possibly one of the only persons having a Fellowship of both the Institute of Electrical Engineers, UK (IEE) and the Institute of Hospitality, UK (IH).