Managing issues and reputation in tourism
25-04-18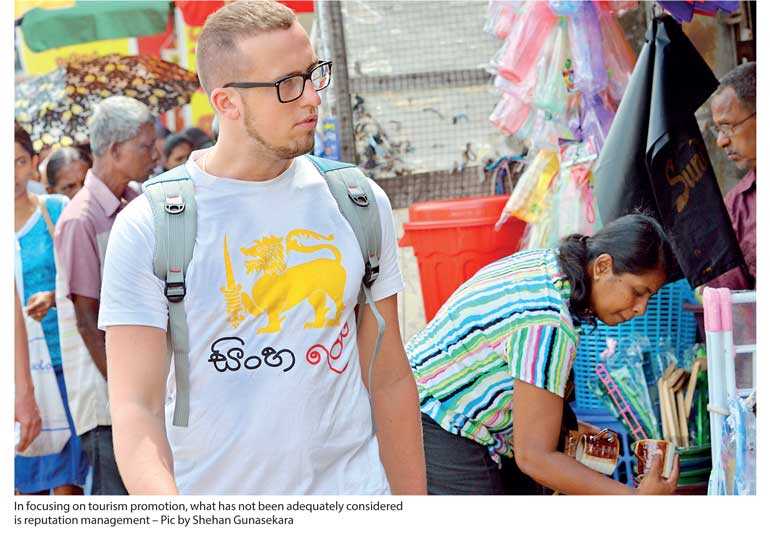 I got sucked into the Sri Lanka tourism orbit in the 1970s when my fiancée, now wife, was working for one of the grand old men of tourism, the late H.M.S. Samaranayake, as his Secretary, at the SLTPB.
I volunteered to spend nights at the airport doing exit surveys with departing tourists. Since then, as a marketing professional, I have attended several SLTPB annual marketing planning sessions and worked with the industry in compiling strategy presentations and working out a matrix to determine which countries made sense for Sri Lanka to tap. With my wife spending most of her life in tourism, I cultivated many friends in the industry and gleaned insights into the various issues it faced.
As the communications agency I founded celebrates 25 years, I have just launched a new brand, NGage Goodvocacy, to apply my expertise as a communications professional and strategist to issues more important than selling "sugared water".
As an evangelist for PR, a professional practice which has been most misunderstood and brought down to largely media relations activity by the industry that we pioneered, I decided that it was time to launch a consultancy that will show companies and industries how to fashion their businesses and reputations for the future.
While reputation management is at the heart of PR and is in fact a synonym for it, this is not what most companies expect or practise. I am amazed to see how little serious attention companies give to their vital asset called reputation, on which their entire business rests.
While some companies have now have graduated into the CSR and sustainability areas, if you ask them what attention they have given or professional resources they have built internally or accessed to systematically nurture and protect their most vital asset, I'd say very little.
The same is true of ministers, ministries and Government institutions tasked with protecting the nation's reputation. Are they prepared for issues and crises? Do they manage change in the industries effectively? Do they take prompt action and lead from the front when a crisis occurs? Or do they amble their way through the situations with no effective crisis recovery and damage control strategy put into action?
Putting the
house in order As Sri Lanka seeks to develop and promote its vital tourism product to reach new targets set by the Government, it appears that there is a need to review certain shortcomings and issues that have come up time and again over the years and have not been adequately addressed, got worse and have given way to negative incidents which affect the reputation, safety profile and quality of the industry and the destination. In my view, putting the house in order is a prerequisite for tourism promotion, or at least needs to be given due attention in parallel.
Here are some issues that we will be addressing in our thought leadership and stakeholder session this Thursday.
The most recent negative incidents are related to issues that have been there for years, neglected and gotten worse. The recent Tangalle and Mirissa incidents and the nightclub brawls arose from issues of sexual harassment of tourists by locals, 'beach boys' (not the Californian singers) and thugs, purportedly shielded by local politicians, sometimes with politicians' progeny involved, with police appearing to cast a blind eye or not being equipped to maintain law and order or even take a complaint due to language issues.
Then there's the issue of 'sex on the beach' (not your favourite cocktail), but the whole underlying scene of sex, drugs and illegal activity – which the Government and its tourism and law and order authorities have failed to crack down on. Child prostitution by poorer families too has been an issue, but we don't hear much about that now.
General harassment and duping is not uncommon – coming from trishaw drivers and street vendors at tourist sites. The general chauvinistic culture towards women that prevails among certain sectors of people also plays out with tourists who are seen as easy prey. Many backpacker and low-budget tourists who naively play into the hands of the troublemakers have also been blamed by authorities.
While some political parties play the race card to win elections and extremists including those in saffron robes incite violence, the Government's failure to take strong and effective measures to control maintain law and order, portends that we shall have endless cycles of racial violence, bad press abroad and travel advisories that affect the tourism reputation and industry.
Other issues that go against Sri Lanka achieving its full potential as a sustainable tourism destination include: the uncontrolled visitation practices by locals and tourist drivers causing traffic jams at Yala, and essential facilities, such as toilets for instance, being over-run in Sigiriya as ministries pass the buck on their development and maintenance. Mushrooming of unregulated, unauthorised buildings to cash in on the industry and illegal business establishments such as bars that escape excise restrictions, are related negatives.
Apart from these, environmental pollution and degradation issues raise questions about whether we can keep Sri Lanka as a destination of sustainable and responsible tourism. The throwaway culture of uncaring Sri Lankans and the proliferation of plastic waste on our beaches detract from this goal.
Tourism should champion and be tied to environmental protection. Businesses should take serious steps in their forward business strategies to move away from making stuff that hurt the people and the planet – or else, have their brands voted out by the emerging millennials who will constitute their future customers.
Sri Lanka has also seen the rise of the informal sector – from guest houses and the popular Airbnb residencies to many new restaurants, bars and coffee shops as well as other tourist facilities. This marks a sea-change from the star-class hotel tourism that held sway in the earlier periods.
While increasing numbers of Sri Lankans, quite legitimately, seek to cash in on the opportunities to earn money from tourism, and some enlightened hoteliers seek to collaborate with and integrate their local communities to benefit from supplying tourist requirements, the issue of coexistence and growth-for-all requires well-articulated policies and guidelines from Government authorities.
Tourism promotion
While tourism took off after the end of the long war in 2009, despite the lack of a strategic destination promotion campaign for a number of years, various country and ad hoc promotions have been carried out to push tourism along.
With various viewpoints coming into play on how tourism should be promoted, proper understanding of often used buzz words like 'nation branding' vs. 'destination promotion' and clarity of what such approaches entail and which option to pursue is still debated by less-than-enlightened policymakers.
Some have not realised that old-style pan-global TV ad campaigns are outdated and unaffordable and still want that clichéd TV commercial. It is time to consider newer and more effective tools of PR, and digital/online/social media with tactics for collaboration with the visitors themselves using crowd-sourced material, which are streets better and more authentic than the standard stuff made by our tourism promoters. Strategy, both for positioning and targeting specific markets with appropriate media and good local insights is key.
In focusing on tourism promotion, what has not been adequately considered is reputation management. Crisis preparation, issues management and change management and dealing effectively with crisis when they happen, are essential areas of reputation strategy. The best of companies and countries get hit, but being prepared and leading from the front at crunch-time in executing a well-thought-through strategic recovery plan in a timely manner is what it takes.
We now operate in two parallel universes – the physical and the online worlds. Do our marketers and companies have knowledge to survive and keep their reputations intact when they get hit with viral dissemination on social media? One needs to invest in competent and experienced resources and strategists, rather than flop with amateur attempts. This becomes crucial to effectively deal with negative incidents, through timely action and early crisis recovery with minimum detriment.
While Sri Lanka has been talking about attracting more of the higher-end travellers, does it have a clear strategy for this? While the demand side has performed to less than desired levels not just in terms of numbers but also in revenue, there are shortcomings on the supply side as well. Though many new hotels – from high-end boutiques to large 5-6 star hotels and several resort hotels have been added or are on the make, the service factor and the lack of an adequate pool of young workers coming into the industry with adequate training are among the areas that have received criticism.
These are some of the pressing issues we must address sooner than later. We will have an interaction between industry experts and various stakeholders this week through the session we have pulled together with participation of the SLTDA, THASL and SLAITO, the key tourism bodies. A few more seats may be left. Try your luck by contacting [email protected].
(The writer, Nimal Gunewardena is Chairman and CEO of Bates Strategic Alliance. He is Founder and Chief Strategist of that IMC consultancy and its new reputation strategy arm NGage.)
Source:


www.ft.lk